I always forget what a busy time of year fall is. It's right in the beginning to the school year, and professors ((mine, anyway)) like to pile on the work. It makes them feel less slacker-ish come the end of the semester when we do nothing. But, man, I don't feel like I'm getting anything accomplished -- recreationally speaking.


I'm still plundering through Jane Eyre. It's such a great book, but it's a hard read, language wise. So I find I can't sit down and really dive into it when I'm at work ((which, I'm not supposed to be reading at work anyway, shhhh.)), or in between classes, or even while at the campus libraries. People are surprisingly noisy: talking on their cell phones, having conversations across the room. It's ridiculous. I usually have to reserve Ms. Bronte for the night, when I'm crawling beneath the covers and getting ready to fall asleep. Even then, I put in my iPod and listen to the audio version as I'm following along in the book. There's something fun about hearing the British accent live while I read. Plus, Jane Eyre has French dialogue in it occasionally, and I love to listen to the accent. The voice-actor ((I guess that's what they're called)) does an tremendous job.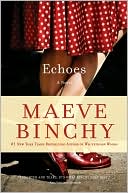 When I can't read Jane Eyre, I pick up Echoes by Maeve Binchy. I thought this was a newer book by an author I've never heard of; I picked it up one day on a whim while at Target. I usually do that: pick up books whenever I go out. I'm like Rebecca Bloomwood, Shopaholic that way. I always have to buy a book when I'm out.
Anyway, Echoes was apparently written in 1985 and was just reprinted again, and Ms. Binchy has been around for a while. It has a pretty cover, that's why I got it. It takes place in Ireland and spans ten years. It's predominantly focused on the main characters, Daniel Power and Clare O'Brien, but Binchy weaves in many integral supporting characters. I'm really enjoying it so far. Kind of a thick book, though. May take me a bit.
That's all in regards to an update.
Happy reading, everyone! (: